Here and There
Views from our former house
Sunsets (August 2002). Click the thumbnail or the magnifying glass for a larger image.
| | | |
| --- | --- | --- |
| Sunset, looking West | | Sunset again |
Some of the wildlife we saw around the house.
It was in an extremely rural setting, and needless to say, there was lots of wildlife around. In the winter of 2005-06 these 3 pheasants visited our platform feeder almost every day.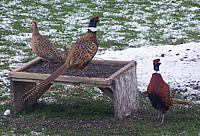 The three winter Pheasants


Before that (spring 2004) we had, in addition to the usual yardbirds, a rose-breasted grosbeak and in mid-May a killdeer family with 3 chicks.
| | | |
| --- | --- | --- |
| The three killdeer chicks | | Adult and one killdeer chick |
2002 sightings included a hen pheasant with 5 chicks (unphotographed, alas), and one morning (Sept 4 2002), there was a good size flock of wild turkeys in the front yard!

Visitors in 2001 included a Yellow-headed Blackbird in late May and 2 young (cute stage) baby raccoons in June.

On a recent trip (fall 2001) to the midwest, we visited Horicon NWR which is excellent for waterfowl. We were fortunate enough to discover the Mayville Inn - a small family owned motel. They (and everyone else we met in Mayville) are very nice people, and the accomodations are excellent.
Our house had been run by an aging (1988-2005) Maine Coon cat Matinicus (also an island off the coast of Maine). Since his departure, we took on TWO girl Maine Coon kittens - born end of July 2005 and growing fast! Their page.

Other activities

MJ crochets afghans, sweaters, and made this bead crochet wedding purse.

Bûche de Noel
| | | |
| --- | --- | --- |
| | | We'd wanted to make one of these for years, and finally got around to doing one in December of 2001. Lots of wonderful chocolate! The recipe (from "The Way to Cook", Julia Child) is gluten-free except for a small amount of flour used to dust the pan; it would be easy to substitute tapioca flour or another gluten-free flour. Click the thumbnail or the magnifier glass for a larger image. |